Wonderfully addicting, super-filling detox salad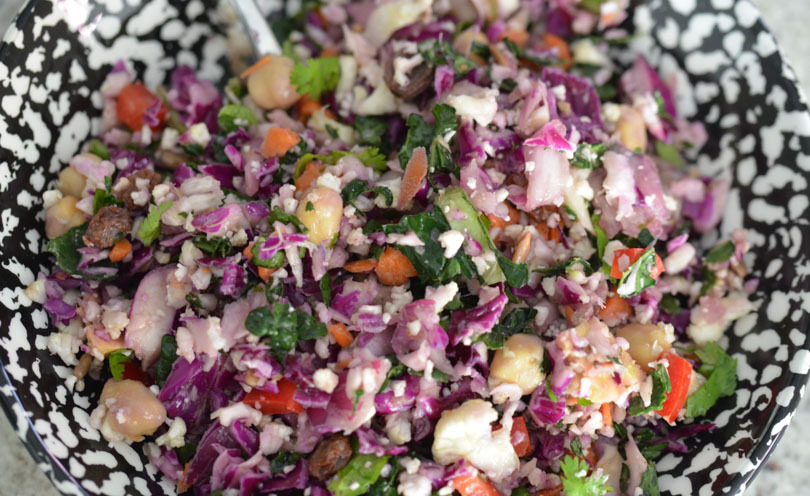 After a long holiday weekend, a detox salad is "just what the doctor ordered."
That's true especially if the weekend consisted of Labor-Day-in-Minnesota activities.
Read: Wedding (cake and booze); MN State Fair (fried food on a stick); Road trip (rest stop food options).
So a detox was MUCH needed. And this detox salad was:
Ridiculously delicious.
Incredibly filling.
Gluten free, dairy free, no-sugar-added, vegan, etc.
While it takes a good amount of chopping (unless you use make it a Vitamix recipe by using your Vitamix to chop), it is 100% worth it.
And, I should mention: It's wonderfully addicting.
With a citrus avocado dressing, the recipe for this detox salad follows the delicious irony of its perfectly balanced flavors.
Plus, some highlights from my weekend.
Enjoy. 🙂
The Ironically addicting detox salad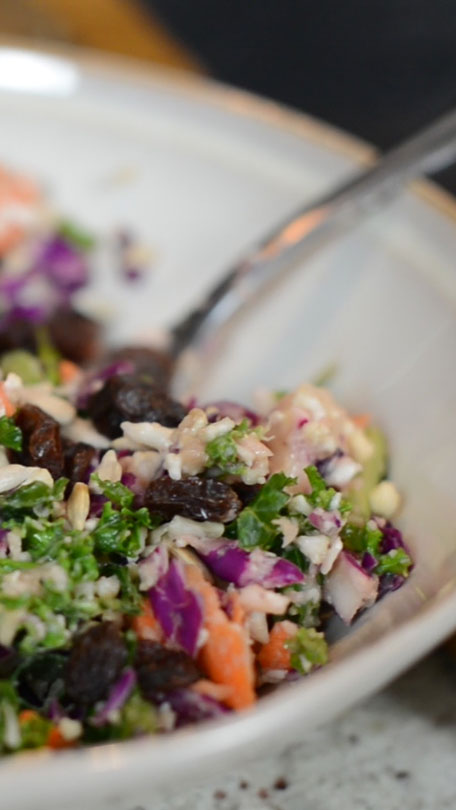 Junk food creators aim to do precisely what this detox salad does: Create a curious balance.
They aim for "The Bliss Point."
The concept comes from the shocking and highly recommended article "The Extraordinary Science of Junk Food."
Basically, when recipes have more than one distinct flavor, we don't grow tired of it. Great examples include:
Given just one of Dr. Peppers' flavors, or nougat, or tomatoes, we'd enjoy until a certain point. But we're able to identify the flavor and move on.
When, however, the flavors are perfectly balanced, we compulsively go back for more.
Big Food has used this trick for decades.
Now, I've used it in this detox salad.
Can you taste the irony? 🙂
This salad is so, so good.
So complex.
So balanced that it's good anytime, anywhere, and with anything.
And of course, you never want to stop.
Best part?
This detox salad is amazingly good for you.
Almost to the recipe…
Kayla's Wedding, Labor Day Weekend
Here are a couple highlights from my pre-needing-a-detox, Labor Day, sister's wedding weekend.
First, Lucy and I on the road to MN. Sunflower seeds in my cheek. Not chew, that wouldn't be very LINY. 🙂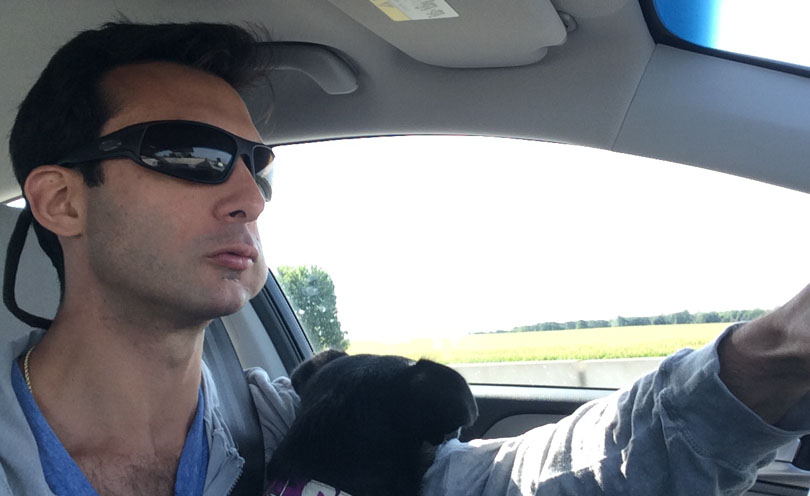 Dad and I during the pre-wedding photo session. He wasn't nervous, stressed or over-whelmed at all. 😉 (Not pictured: 2 glasses of Macallan)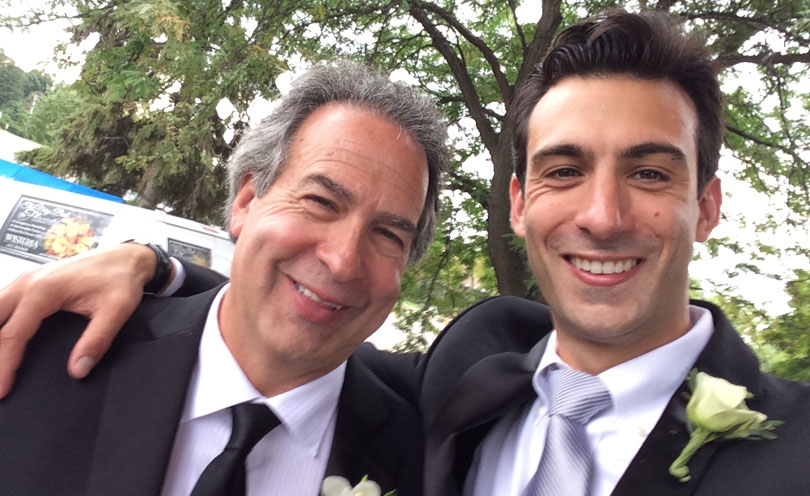 The girl and I at the MN State Fair waiting for a bucket of Sweet Martha's Cookies. * drool *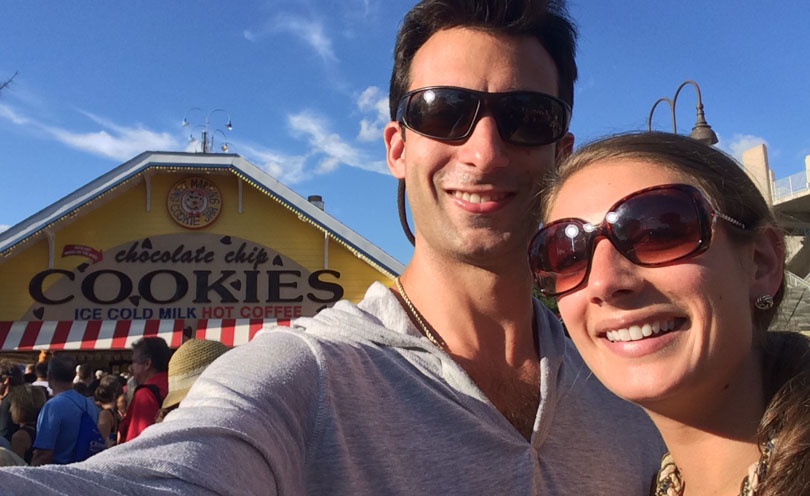 And so, after four days of NOT eating NOYOKE, I was ready to detox. Big time.
Anyways, would you like to see how we make it?
Video! (4:36)
Here's a quick, fun video demonstrating how we make this detox salad. Enjoy!
Other Noteworthy Versions
Useful tips for Detox Salad
This salad is pretty hard to screw up.
Be super careful when you're chopping all the ingredients. The cabbage, especially, can be a doozy if you're not careful.
To keep the raisins and sunflower seeds from getting soggy, top salad with them right before serving.
The Vitamix Pro 750 (with tamper) is what I used to chop all the ingredients. Still took a bit of time, but was certainly easier and safer than hand-chopping everything.
Read my review of the Vitamix Pro 750 here.
Recipe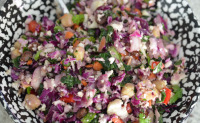 Detox Salad
Yield:

12 servings

You're needed for: 30 minutes
Until it's done: 30 minutes
Delicious, nutritious, and incredibly filling detox salad. Perfect after a "festive" weekend.
Ingredients:
SALAD
cauliflower -

1 head, chopped

kale -

2 cups, chopped

red cabbage -

1/2 head (about two cups), chopped

carrots -

2 cups, chopped

red or green onion -

1/2 cup, chopped

raisins -

1/2 cup

sun flower seeds -

1/4 cup

fresh cilantro (optional) -

1/2 cup, chopped (no stems)

protein (optional) -

I added a can of chickpeas (rinsed)

DRESSING
avocado -

1 whole (no peel or pit, obviously)

apple cider vinegar -

1/4 cup

lemon juice -

from half a lemon (about 2 T)

lime juice -

from one lime (about 2 T)

ginger -

2 T fresh (or a bunch of shakes of powder)

honey -

a little bit (stevia or maple syrup also works)

salt -

1 Tbsp

pepper -

1 Tbsp
Instructions:
SALAD:
Chop everything. I used my Vitamix Pro 750 with the tamper.
Mix it all up.
DRESSING:
Add ingredients together.
Mix until smooth. Yes, I used my Vitamix for this, too.
DETOX SALAD:
Toss the salad and dressing together.
Top with raisins and sunflower seeds.
Eat and be happy immediately.
Or, throw it in the fridge and enjoy over the next few days. It keeps getting better.