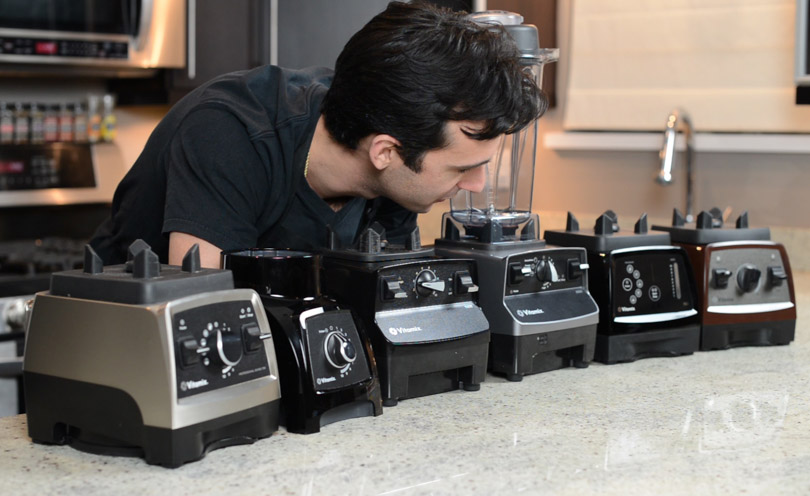 The best Vitamix for new owners
With years of multiple-time-daily blends using nearly every model and hundreds of reader emails and dozens of conversations with Vitamix Customer Service, here's what I'm telling friends about which Vitamix to buy: The Ascent A3300 is the best Vitamix for new owners. From smoothies to soups to nut butters to flours, nothing out performs it. It comes with a 10-year full warranty, Smart Detect technology, touchscreen and dial control (both!), and just the right amount of automation for new Vitamix owners.
Summary of Picks
Best Vitamix for new owners: A3300
US: $519.95 $449.95 | CA: C$719.95 C$649.95
Another great Vitamix for new owners: A2500
US: $519.95 $449.95 | CA: C$719.95 C$649.95
The best Vitamix for single servings (and travel): S50
US: $419.95 $369.95 | CA: C$489.95 C$439.95
Latest and greatest: A3500
US: $619.95 $549.95 | CA: C$819.95 C$749.95
Not sure about the best place to buy? Check out: 
Table of contents
Why you should trust me
I left my CPA consulting job in 2012 to start this site, Life is NOYOKE. Today, thousands of people trust me to help them buy, gift and use their Vitamix. Why? I spend 99% of my working hours thinking about, writing about, and using Vitamix blenders. I have (nearly) all the models and use one or another several times daily. You can think of me as a cross between a demonstrator you'd see at Whole Foods, a tester from The Wirecutter, a Vitamix call center employee, and a passionate health and wellness advocate. One that has a close, trusting relationship with a lot of Vitamix team from C-Suite down to the Customer Service Center. Not sure if there's another way to say it: I'm passionate about this product and the work I do with it is my livelihood.
Who this is for
This guide on which Vitamix to buy may be for you if:
You're trying to find the "best Vitamix."
You're thinking about getting a Vitamix but want to be sure you don't make the wrong decision.
You just bought (or were gifted) a Vitamix and want to be sure it's a good one.
Ultimately, if you're reading this, you're probably in the right place.
So, let's move on to the important stuff.
Notes for everyone
If you'd like to know more about the reconditioned models, this article is for you.
If you're confused about all the Vitamix container varieties, read this.
If you're hesitant to get a Vitamix for fear you might not use it to its full potential, here are a few Vitamix classes to note: Read more »»
Really, you can't go wrong. Picking the wrong Vitamix is NOT the biggest mistake I see people make.
It's getting started on the wrong foot.
What do I mean?
99% of the time, it's not that you got a bad Vitamix. Or the wrong Vitamix.
It's you using bad (or wrong) technique.
It's like buying a fancy MacBook Pro and thinking it's going to automatically create beautiful digital art for you. If you don't take the time to learn the proper technique, your chances of using your machine to its full potential are slim.
Every Vitamix comes with a Getting Started Guide. Use it.
I have dozens of Vitamix recipes across all categories. Try them.
And be sure to let me know once you've placed your order. I have some stuff for you as a new Vitamix new owner (and friend).
Notes for non-US residents
If you're not shopping for a Vitamix in the USA, here's how I can help you, by country.
Canada: If you're shopping from Canada, check out this guide: Let's talk Vitamix and Canada. The quick version: You should visit vitamix.ca for the best deal. Our affiliate code 06-007938 will get you Free Shipping.
Mexico: I can make a model recommendation, but can't get one sent to you, unfortunately.
UK and Germany: The machines in the US aren't configured for your power outlets. You could try to use a power adaptor, but I (and the terms of your warranty) advise against it. Your best bet is to visit Vitamix's UK site or its Germany site and order from there.
Australia: Vitamix machines are expensive out there, eh? (Updated pricing on the Australia site.) I'm working on a way to get them to you at a better price. So, stand by.
Comparison tool
Want to compare Vitamix models side-by-side?
Great!
Use the Vitamix model picker tool below to narrow your selection. Feel free to sort, toggle, and adjust the settings to narrow down the list of models.
When you're ready, select two to compare. Then, press the "Compare Selected Blenders" button to see them side-by-side.
Note 1: You'll need to manually add the 32-ounce container to your cart.
Note 2: You can read my in-depth review of Certified Reconditioned models ("recons") right here.
Note 3: Links go to the US Vitamix website and are eligible for Free Shipping and a free starter kit with my affiliate code 06-007938.
Note 1: There's now a model comparison tool on Vitamix.com that's worth a look.
Note 2: There's now a Vitamix model builder tool on Vitamix.com that's worth a look.
Note 3: There's now a best sellers list on Vitamix.com that's basically just a curated list of C-Series and G-Series models.
Which Vitamix to buy – a 90 second video
So you know, I couldn't decide which Vitamix to buy either. I knew I wanted one, but couldn't pull the trigger. It was paralysis by analysis.
My only regret?
I wish I hadn't waited so long. Hopefully this guide helps you make a decision.
If you still have questions after reading it, feel free to contact me directly.
All the models in a nutshell
Overwhelmed by all the Vitamix models?
Totally normal.
But believe it or not, Vitamix only has eleven different models.
Four series, with and without pre-programmed settings, with and without touchscreen.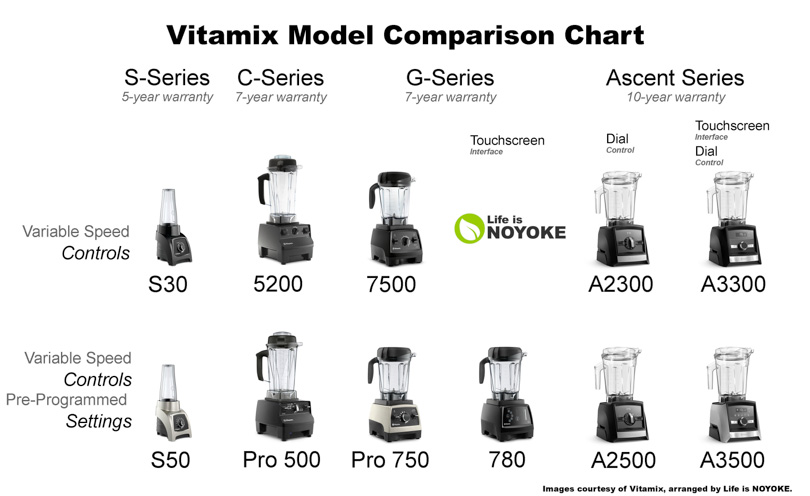 (To clarify the absurd drawing above: C-Series machines ARE full power. G-Series, at 2.2 hp, are fuller power by tiny bit.)
Here's the seven listed out with their alternate versions. You can click any of the variations to see that the difference is basically just price.
(Note: I've omitted the two-speed machines. A Vitamix without Variable speed control is like a Ferrari with just 1st and 6th gear.)
So why so many different names and prices?
Vitamix creates special names and packages (different cookbooks, containers, and accessories) for their retail partners.
For example, the CIA Creations is just a 5200 with a different name. This helps QVC feel special (and sell more units). Same goes for Target, William and Sonoma, an all the other places where you can buy a Vitamix. Read more »»
The truth about batch minimums
Blend minimums are tough to fairly quantify. It depends on what you're blending (both category and type).
For example, let's discuss three categories.
Category 1) Nut butters, frozen desserts, and certain thick protein shakes. These require use of the tamper. Thus, these batches need to big enough to make contact with the tamper.
Category 2) Most smoothies and juices. These should not require the tamper, don't need to be as big as Category 1.
Category 3) Dressings, sauces and batters. These generally have no frozen (or hard) ingredients, can generally be even smaller than Category 2.
Of course, within each of these categories, minimum batch size varies depending on the ingredients.
Why does this all matter?
It's important to understand why I don't have minimum batch size quantified above in the model comparison thingy. By listing minimum batch size by cups, for example, there's a good chance I'd be over-promising (and under-delivering).
Instead, I use the baby bear, mama bear, and papa bear approach.
And instead of bears, I use something everyone who's picking a Vitamix knows: Smoothies.
I also didn't want to scare anyone into thinking a G-Series is too big for an individual. Sure, three tiny smoothies might be too much for certain people who live alone. (But I can take down three tiny smoothies in one sitting without a problem.)
If you have container-size concerns
In short, don't worry about it.
The wide (low-profile, 64-ounce) containers are a little trickier to use. But not enough to avoid getting it.
If you use the proper technique, your machine will be able to handle whatever you throw at it.
Still concerned? Here are three resources:
Resource 1)  I wrote an article answering most questions about Vitamix containers. Read more »»
Resource 2) There are a couple of online video courses about Vitamix that can help you master your technique (and get the most out of your Vitamix). Read more »»
Resource 3)  The 20-ounce Personal Cup Adapter is now available for Legacy machines. It's compatible with nearly all full-size, non-Ascent machines (full list here.). (This is exciting news!)
Do I really need pre-programmed settings?
Dozens of Vitamix buyers send me questions every day. Nearly all of them want to know if they should get a Vitamix with programs.
Well, here's what I tell everyone:
There are a few things to keep in mind about pre-programmed settings on Vitamix machines.
1) You do not need them. 
My first Vitamix machine did not have them. I was still able to manually use the variable speeds to make everything. In fact, it was probably better for learning how to "drive" my Vitamix. It's kind of like a manual transmission car. I learned how to drive a stick shift when I was young. That was a great experience and probably made me a better driver. Some people, like several blender blogger friends of mine, actually prefer to blend without pre-programmed settings (even if their machine is equipped).
2) They do not get you "automatic blending."
The pre-programmed settings are simply timers set to run your blender at various speeds for a set amount of time. There are no sensors or artificial intelligence making on-the-fly adjustments to the blend time and speed. For some recipes, though, you can safely press start and walk away. Green smoothies, hot soups, and cleaning, for example. In this instance, pre-programmed settings enable multitasking quite nicely. But other recipes like frozen dessert and nut butters, using the pre-programmed settings is merely a guide. You still need to be there to use the tamper and listen for the Vitamix to "tell you" when it's done (or not). So back to the car analogy, pre-programmed settings are like automatic transmission. It definitely makes operation easier. But, the machine still needs you to drive it most of the time.
3) They ARE really nice to have.
As alluded to above, having a Vitamix with pre-programmed settings is quite nice. Admittedly, I was skeptical of its value when I first upgraded to a Vitamix Pro 750. I thought that, as an expert (the Vitamix Guy, apparently), I'd never use 'em. But eventually, I fell in love with the pre-programmed settings. When I make green smoothies, my cashew queso, or run a cleaning cycle, I always use a pre-programmed setting. Set it up, press start, and walk away. Although not a strength of mine, the programs really help me multitask (and be more productive). The analogy here, although it's standard on most cars these days, is bluetooth connectivity. Can you live without bluetooth in your car? Absolutely. But if you have it, you love it and would miss it if suddenly it was gone.
So should you get a Vitamix with pre-programmed settings?
It's really up to you.
Just know that like a car, either way you choose, it's gonna help you get to where you wanna go. And in the case of your Vitamix, that means super smooth smoothies, frozen desserts, nut butters, hot soups, etc. Because with or without pre-programmed settings, your Vitamix can do all that. The difference is how much effort you will have to put in and whether or not you can multitask along the way.
One note: There is one sneaky benefit of having a Vitamix with pre-programmed settings: added safety. Because of how they're configured, Vitamix machines with pre-programmed settings have a secondary on / off switch. This is nice for families with small children or mischievous pets.
Should I get touchscreen?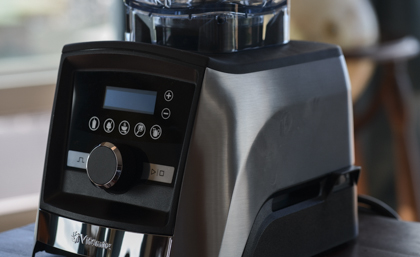 Touchscreen controls on Vitamix machines (the Legacy 780 and Ascent A3300 and A3500) are a matter of personal preference. Aside from being sexy-looking, they're nice because they're:
Easy to use.
Easy to clean.
Well-made (so no need to worry about break-down or malfunction).
If you want to see them up close and personal, here are 10 video demos with the 780 and here's an in-depth video from Vitamix headquarters with the A3500.
Switches and a dial are the alternative (like used on the 5200, Pro 500, 7500, Pro 750, A2300, A2500, and all S-Series) are the alternative. Any reason to opt for one of those instead of touchscreen?
Here's one reason to pick a Vitamix without touchscreen: You're a Legacy owner looking to upgrade..
If you're accustomed to using a pulse button, I'd go with a traditional model with switches. That's what we missed when playing with a touchscreen model. If your current machine doesn't have a pulse button, it's probably not something you'll miss. In that case, go for the touchscreen. We really did love the A3500.
Bottom line on touchscreen Vitamix options: Really, you cannot go wrong either way.
Ascent vs Legacy Vitamix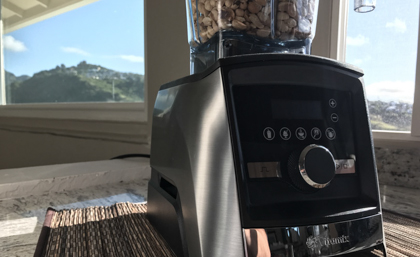 On the fence between getting an Ascent or a Legacy Vitamix? I think it's a no brainer.
Compared to Legacy Vitamix, all Ascent Series machines have:
Sleek new design.
10-year, full warranty.
8-ounce cup, blend-and-go capability.
Wireless connectivity (a technology that doesn't do much now, but may be nice down the road as fitness and nutrition tracking apps become integrated.)
New owners: Go for the Ascent (our full review). Especially if you were considering getting a G-Series for its quieter run volume, sleep design, more efficient blends, consider getting into the Ascent Series. With the Ascent, you get all the good things from a G-Series plus so much more for about the same price.
Are you the owner of a legacy machine? It's probably not necessary to upgrade. Why?
Legacy containers are not compatible with Ascent machines. And, you can now get the 20-oz Personal Cup Adapter (here's our review)!
Why are we excited about this? The number one concern we hear about full-size Vitamix machines are the minimum batch size. With this, small batches of dressings, tiny smoothies, etc. are easy.
So unless you have zero secondary containers for your Legacy machine and do not need 8-ounce container compatibility, stick with your Legacy Machine. The Ascent Series is going to be around for a long time.
C-Series vs G-Series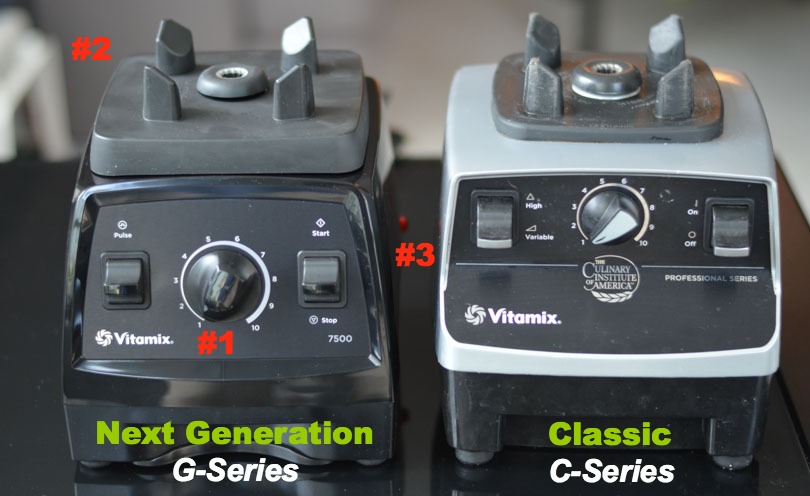 So you're tempted to get a G-Series, but aren't sure if it's worth it. Can a C-Series make smoothies, soups, nut butters, etc. just as well?
Great question.
Let's start with a little history lesson.
C-Series Vitamix machines were introduced in 1997. They were total game-changers then because of their performance and durability.
This exact machine is still sold today and remains a great buy. (They call it the "Getting Started" because it's become the entry-level, full-size Vitamix.)
13 years later, in 2011, Vitamix introduced the G-Series. It stands for Next Generation.
In short, G-Series, when compared to C-Series, are:
More powerful.
Quieter (up to 40%).
More versatile.
More ergonomic.
Debatably better looking.
Let's talk about each quickly.
More powerful.
G-Series machines, compared to C-Series, have a bigger motor and a larger blade. This results in more efficient blends. For example, hot soup might take six minutes in a C-Series but only five minutes in a G.
Quieter.
G-Series machines, despite having more powerful motors, are significantly quieter than C-Series machines. Vitamix marketing materials say they're 40% quieter. And, my unscientific tests (iPhone decibel meter and ears) confirm this. Note that every 10 decibels doubles the sound level to the human ear. So, the 4 decibel difference at high and low speed I charted confirm this.
More versatile.
G-Series machines come with the low-profile, 64 ounce container. This is a wide container, especially compared to the one that comes with most C-Series. So why is the wide container more versatile? The wide shape makes non-traditional blender functions (food prep, batters, doughs) easier. So while C-Series machines CAN do all this stuff, G-Series machines are much more conducive to it. (Read more about wide vs narrow containers here.)
More ergonomic.
G-Series machines are more ergonomic for a couple of reasons.
Easy to "get in there." This is thanks to the wide container, as we discussed above.
Cabinet friendly. When fully assembled, G-Series Vitamix machines generally fit on counter tops and under cabinets. (But there's no guarantee. My Pro 750, a G-Series does not fit under our cabinets 100%. It DOES fit under the cupboards when they're open. And for that, I'm grateful. Why? One time while using a C-Series, I opened the cabinets and knocked over an entire strawberry smoothie. Not fun.)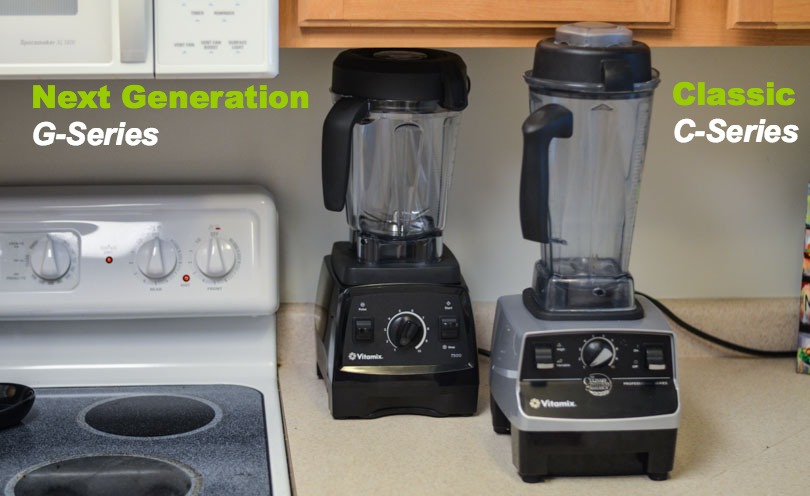 Better looking?
It's a matter of opinion, of course. But, G-Series machines are better looking appliances than C-Series machines. Now, I'm not a design guy, per se. I cannot speak to edges, lines, etc. of a kitchen appliance. But I know G-Series are a bit nicer and some people place value in that. Objectively, G-Series models are exclusive in that they are available in true metal finishes (Copper metal, for example) known as the Heritage Collection.
Overall, you cannot go wrong either way.
G-Series and C-Series Vitamix machines can do all the same things. The former simply does them a bit more efficiently (and quietly).
S-Series vs G-Series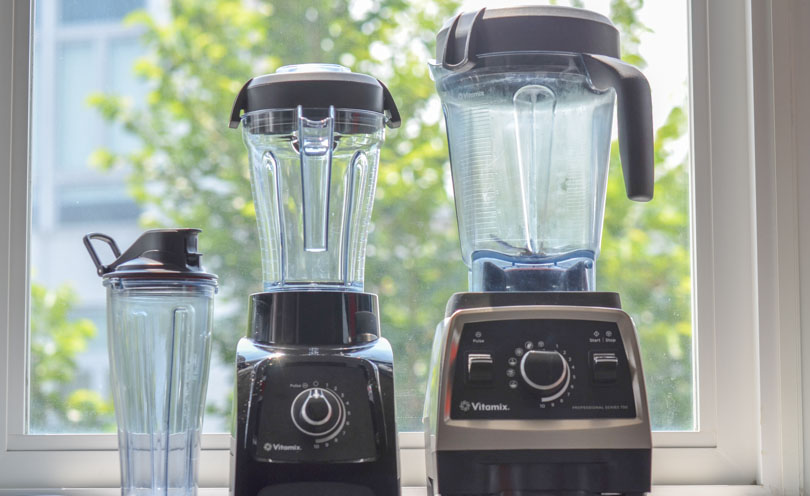 If you're trying to decide between an S-Series or a G-Series Vitamix, here's my recommendation:
Get a G-Series.
Compared to an S-Series, all G-Series machines are:
More powerful / efficient.
More versatile.
More durable.
And quite simply, a G-Series is a much better buy.
Now, to be fair, S-Series machine can be a good fit for some people. (You can read my in-depth review and notes on this here.)
But the fact that you're weighing it against a G-Series makes it a no-brainer.
Get a G-Series.
Yes, an S-Series is a big upgrade from a cheaper personal blender. (The S30 kills the Nutribullet head-to-head in this video comparison.)
But a G-Series is a big upgrade from an S-Series. For a Vitamix that will live on your countertop, you'll be much more satisfied with a G-Series.
To summarize: Nutribullet < S-Series < G-Series.
And the step between each machine is huge.
I could go on and on, but I'll leave you with this: Vitamix insiders, like yours truly, do NOT care for the S-Series.
As a travel-only blender, sure. The S-Series is fine for that.
But as a full-time, replace-the food processor, use-many-times-daily machine, the S-Series pales in comparison to all G-Series machines.
How the Costco models compare
So you're looking at the Vitamix machines sold at Costco. Nice.
Two categories of models you'll find at Costco.
1) Frankenstein models: 5300 and 6500
Here's what you need to know about the 5300 and the 6500: They're loud.
Like really, really loud.
Why?
G-Series' shell is the primary reason it's quieter than a C-Series. As such, a G-Series motor encased by a C-Series shell (a 5300 or 6500), will not only not look like a G-Series, but it will not sound like a G-Series; it will be MUCH louder.
So basically, these two models are G-Series motors held in C-Series shells.
If you don't mind the "Frankenstein" nature of these models, go ahead. The more people with Vitamix machines in their home the better I've done my job.
2) Costco-style packages
Costco sells Vitamix packages that get you some extra value. A 5200 package which includes a dry grains container, for example.
Generally, I do not recommend these.
Why?
Sure, you're paying an extra $50 to get another container worth $125. And that feels like getting $75 free.
But you're still paying extra for an extra thing. And that extra thing will likely go unused.
Unused extra things lead to post-purchase disappointment. (Translation: you not meeting your goals.)
And since I'm all about you getting the most out of your purchase, I recommend baby steps, first. Get a 5200 – Getting Started package. And if you ever feel like you need a dry grains container, you can get one during the holidays when they're typically heavily discounted. (You can read more about the secondary container situation here.)
Moving on, let's hand out some awards.
Superlatives: And the award goes to…
In attempt to answer everyone's "Which one is best for?" questions, here's some superlatives.
Best Vitamix for smoothies
Okay, all Vitamix machines make smoothies very well.
But when I hear this, it typically means smoothies are the number one reason you're getting a Vitamix. It also means you probably already have a blender (or had one). Since it's the easiest and most cost-effective way to start or continue a smoothie regimen, I recommend the 5200 – Getting Started, also available in reconditioned.
Best Vitamix for the early adopter
No question, the latest and greatest Vitamix, which features flat panel controls, is the pick. It's the 780 and its look and performance is great. Read more »» *
Quietest Vitamix
G-Series Vitamix models are quieter than C-Series. But within the G-Series, a quietest model emerges. That's the 780. The glass panel on the 780 does a better job of dampening sound than others. Noticabely better. So if you want the quietest Vitamix, go with a 780.
Best Vitamix for Grandma
Some might think that an S-Series, personal Vitamix is best for the elderly. They're small, light, and less of a beast, so to speak. But since S-Series blades are not fixed to the container, Grandma may struggle with unscrewing the blade assembly. Plus, her not-so-nimble fingers might struggle to get the rubber seal off to clean it. Thus, a reconditioned Pro 500 is my pick for Grandma. It's easy to use, reasonably priced, and able to make small enough batches for her grandma-sized appetite. I just ordered one for my grandma. Read more »»*
The competition
You will find several Vitamix imitators. But, as most people find, there's no comparison.
Here are a few comparisons showing Vitamix heads-up with he competition.
If you're still on the fence
I totally get it. It's a big decision
We make a vegan Vitamix recipe (almost) every Sunday. You can get it delivered by me to your inbox here.
Or…
Check out a replay of our live Vitamix demonstration here.